I am officially signed up for my first century -
Ride around the Bear
!
In a nutshell, it's a 100 mile bike ride around
big bear lake
. All I gotta say is check the profile!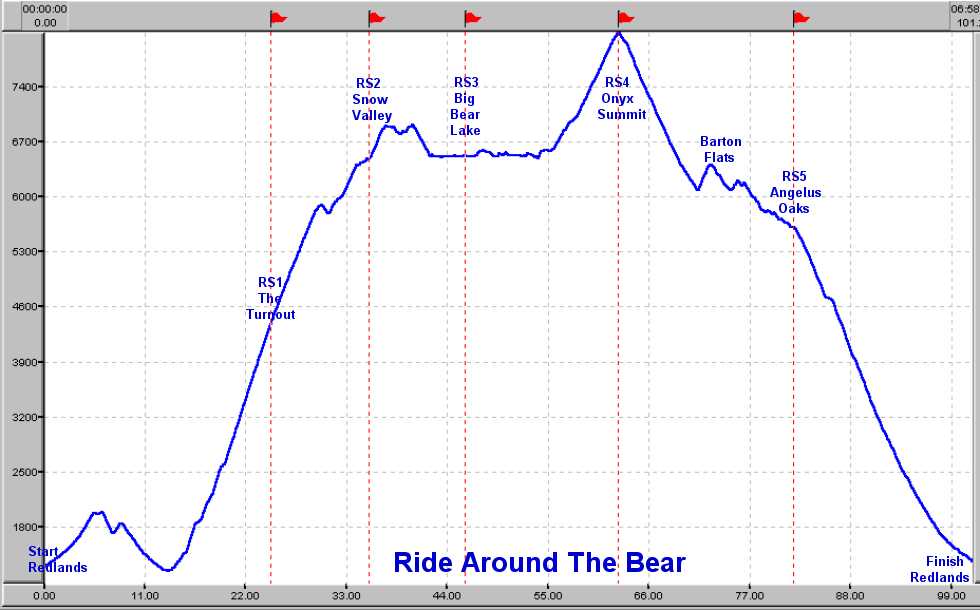 Big thanks to Andrew for telling me about this ride - I think it's gonna be great prep for IMLP. It's doubtful that I will do this on the 'velo, so I think it's time to break out the allez from hibernation (get it? hibernation, ride around the bear. WOW! you can stop reading now)
Pardon the horrible joke, but my brain is deprived of oxygen right now since I am in Denver for the week to do some elevation training, errr I mean attend the
OAUG conference
. But in reality, it's been a tough week balancing work, meetings/sessions, and trying to take advantage of training at elevation. The weather here has been all over the place. Monday was sunny and 75, Tuesday was incredibly dry (so dry, I turned around .75 miles into my run realizing I wouldn't be able to do 90 minutes without water) and incredibly windy (it's not often that wind slows you down when
running
), and today it ...
SNOWED!!!! The ground was warm, so it didn't stick, but it is safe to say that I didn't pack winter gear for this trip here. S'all good tho.
I will actually be here through the weekend for my buddy Greg's wedding, and plan on hitting up Boulder, the
other
triathlon mecca. Damn, am I lucky or what? Stay tuned for pics!